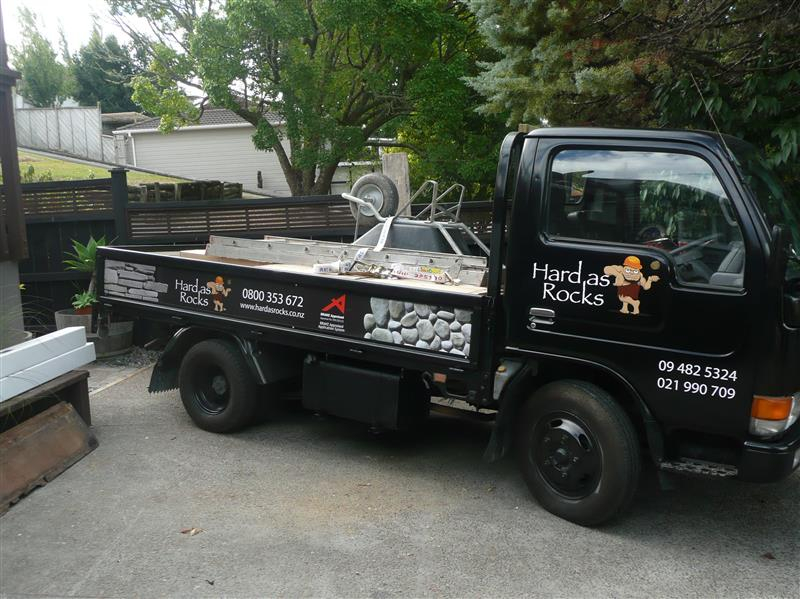 About us |
Hard as Rocks, Auckland
Bevan and Lisa Warner are your local franchise owners for the greater Auckland region.
With over 20 years building experience, including extensive knowledge working within the top-end building market, Bevan now dominates the stone veneer industry in the Auckland region.
Bevan has gained a lot of life experiences from travelling and living around the world. He also has extensive building experience working on a wide range of projects from 15th Century Monasteries to Assyrian Catholic Churches, vineyards, high end apartments, luxury homes as well as quick property renovations for re-sale. Bevan has a wealth of knowledge he can share with you to best use our stone to maximise your budget while still adding the 'wow' factor to your project.
Talk to Bevan about:
1. Stone selection – the right stone colour and shape for your project.
2. Stone location – where to best utilise the stone so that it flows with your overall project and other building materials.
3. Stone detailing – Even the smallest tweaks can make all the difference to the end product and achieve maximum impact. This can be from stone window reveals to front entrance glass panels seamlessly coming out of the stone. Each project is unique so this could also mean using different grout techniques to achieve that old age look or a mix of stone blends to give a truly distinctive look.
4. Budget – an investor's point of view on where to spend your money to avoid over-capitalising and to achieve the best "bang for your buck".
Hard as Rocks Auckland works with many of the prominent group home builders, individual building firms and architects/designers. Bevan has many displays set up around the Auckland region and can direct you to completed houses and subdivisions so you can see the stone up close to appreciate just how realistic the product is.
If you want that 'wow' factor on your property without the expense and complications of using real stone then we can certainly help you.
---
Testimonials |
What our clients say
"Hard as rocks are a great company to work with, always friendly and professional. The work they do is outstanding! Producing a final look that is pleasing to the eyes yet made out of such a hard, durable material is "hard as" but Bevan and his crew make it look easy." -Jeff Morgan
"We found Bevan at Hard as Rocks so easy to deal with, very professional and with a great knowledge of the product. We absolutely love our stone chimney and highly recommend the product and service to everyone."
Shane and Renee Murray, David Reid Homes Northland Limited
"Bevan and his team at Hard As Rocks Ltd have been an integral part of my construction team. In my industry, trusted relationships are a key factor to having a successful business. Introducing my clients to Hard as Rocks, gives me the ultimate confidence that Bevan and his team will take them through the right channels and tailor their needs accordingly to get the best result! Bevan's extensive knowledge within the stone industry is insurmountable and in an ever changing building industry, experience is key."
Andrew Thompson, Andrew Thompson Construction Ltd, Licensed Master Builder
"I would like to thank Hard as Rocks for their efforts and work with me during the renovation of the Assyrian Church of the East in Manurewa.
Bevan Warner's work impressed me on multiple levels. Really listened effectively to what I wanted, brought forward beautiful design ideas for my consideration, and did it all in a timely manner and with excellent communication skills.
Bevan has many terrific characteristics and abilities; I recommend him unequivocally and would definitely work with him again."
Glen Mouchi Senior Project Manager St. Mary Parish Committee President Assyrian Church of the East, Auckland
"Just letting you know the workman you have here is an asset to your company. He is very professional and doing a great job with lots of care and consideration. Thank you and we are really pleased we chose your product and service." - Jodene
"Hi Bevan, Firstly - we just LOVE our schist - and so does everyone else! Lots and lots of positive comments, and you are of course welcome to send people to our place to take a look!..." - Ruth
---
Showrooms |
Displays